Helping Facilities with PT, gait training and balance programs.
The benefits a facility can experience will range depending on the type of patients treated and the type of facility.
As a general rule of thumb, if the facility is treating patients at risk of falling during the rehabilitation process, the Solo-Step Track System will help:
Reduce/Eliminate Liability Risks Associated With Falls
Provide a Safer Environment For Both Patients And Therapists
Increase Productivity With A 1:1 Treatment Ratio
Eliminate The Fear Of Falling In Patients Who Are Scared
Increase Confidence In Patients To Try Advanced Therapies
Gives facilities a starting point for implementing new balance programs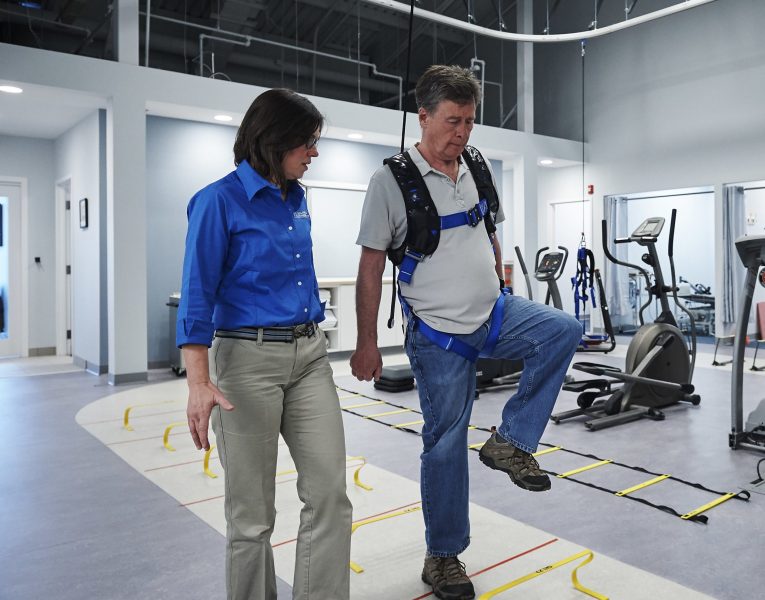 Starting a balance program at your facility?
In some cases, a facility such as a private practice physical therapy clinic will be able to see a return on investment from the Solo-Step Track System in a short period of time. This is possible using the customized marketing packet that every Solo-Step client receives to gain more referral networks and attract new patients.
Whether you have an esablished gait training system or you are just starting a new balance program, Solo-Step can help.  Having the Solo-Step overhead track and harness system in your facility will give your clinic the added edge to safely treat high risk patients such as neurological and balance disorders. When word gets out about your new fall protection system, your facility with have an unfair advantage to dominate the local market and become the leader in safe rehabilitation.  If you are just starting a new balance program or you have a well-established vestibular balance training clinic, adding the Solo-Step overhead track and harness system will take your balance therapy program to the next level.
Solo-Step has been used with success in the following types of facilities:
Private Physical Therapy Clinics
Rehabilitation Hospitals
Veteran Affairs Hospitals
Skilled Nursing Facilities
Wellness Centers
High Performance Centers
Request a free information packet to learn more about the Solo-Step to see if it would be a good fit for your facility
or feel free to give us a call to speak with a product specialist!
We will be able to answer all of your questions and provide additional resources if needed.
For a FREE customized quote, fill out the pricing form by clicking here.