All About Ceiling Track Systems
What Is a Ceiling Track System?
In healthcare, a ceiling track system is a type of patient transfer system that helps patients move safely and comfortably from one location to another. The system consists of an overhead track that is mounted to the ceiling. The patient will be attached to the system by lanyard and harness, allowing them to be transferred without putting any strain on their body.
What are the Benefits of Ceiling Track Systems?
Moving patients safely and comfortably is very important in healthcare settings. Some benefits of using ceiling-mounted track systems include: 
Increased Safety: Keep your patients safe and secure without risking falls or other accidents. A ceiling-mounted track system ensures: 
Reduced risk of falls: patients can be safely transferred without the risk of falling. 
Secure transfers
Reduced physical strain: Healthcare workers can experience physical strain while manually transferring patients. Ceiling track systems can help reduce patient and healthcare worker injuries.
Improved control: Patients and healthcare workers can have greater control during therapy or patient transfers. 
Improved Patient Comfort: Provide a safe and efficient way to move patients between different areas. Ceiling track systems allow: 
Easy and smooth movement: Patients can comfortably move around during treatment or transfers. 
Customizable equipment: Harnesses can be adjusted to fit the patient's body and provide maximum comfort. 
Increased accessibility: Patients can move around safely, allowing them to have more independence during therapy or during their stay in a healthcare facility. 
Reduced Risk of Injury for Staff: Overhead track and harness systems require less physical exertion from therapists and healthcare workers, resulting in less chance of injury.
Reduced physical exertion: Your staff can move patients more easily, reducing the amount of physical exertion required. This can help prevent injuries to the back, neck, and shoulders. 
Minimizes strain. Healthcare workers don't have to strain while helping the patient move while in the overhead track system
Increases Efficiency:  Healthcare workers can assist their patients more efficiently. Patients can have more confidence to move from one location to another safely and effectively. 
Cost-effective: Overhead ceiling track systems can be a more affordable option for many facilities. 
Increases efficiency: Ceiling overhead systems allow for more efficient use of space because it does not require floor space to use. 
Improved patient outcomes: Patients may experience a more comfortable and safe environment for rehabilitation, leading them to choose your facility over the competition. 
Reduced risk of injury: There is less risk of injury with an overhead ceiling track system, reducing injury risks that could cost your facility money.
Where are Ceiling Track Systems Most Effective?
Ceiling track systems can be used in a variety of healthcare settings, including: 
Hospitals
Physical therapy facilities
Skilled nursing/long-term care facilities
Ear Nose & Throat facilities
Veterans Affairs facilities
And more
If your patients have trouble walking on their own, have balance issues, or have a fear of falling an overhead track and harness system may be an effective solution.
What Patient Types Can Benefit from a Ceiling Track System?
A wide variety of patients can benefit from ceiling track systems, including: 
Elderly patients:

as patients age, they may have trouble with their balance and mobility. A ceiling track system can help older patients move safely and comfortably. 

Patients with limited mobility:

Patients that may suffer from spinal cord injuries, cerebral palsy, multiple sclerosis, stroke, or other conditions may require assistance with mobility and balance. A track system can provide safety for these patient types. 

Bariatric Patients:

Larger patients, typically with a BMI of 35 or higher, may require specialized equipment for safe patient handling. A ceiling track system may provide the necessary support to help reduce the risk of injury to the patient and your staff. 
Patients in rehabilitation: An injury or surgery may cause a patient to need assistance during therapy. Ceiling track systems allow patients to recover faster and improve safely and effectively.
Can I Have a Custom-Sized Track System in My Facility?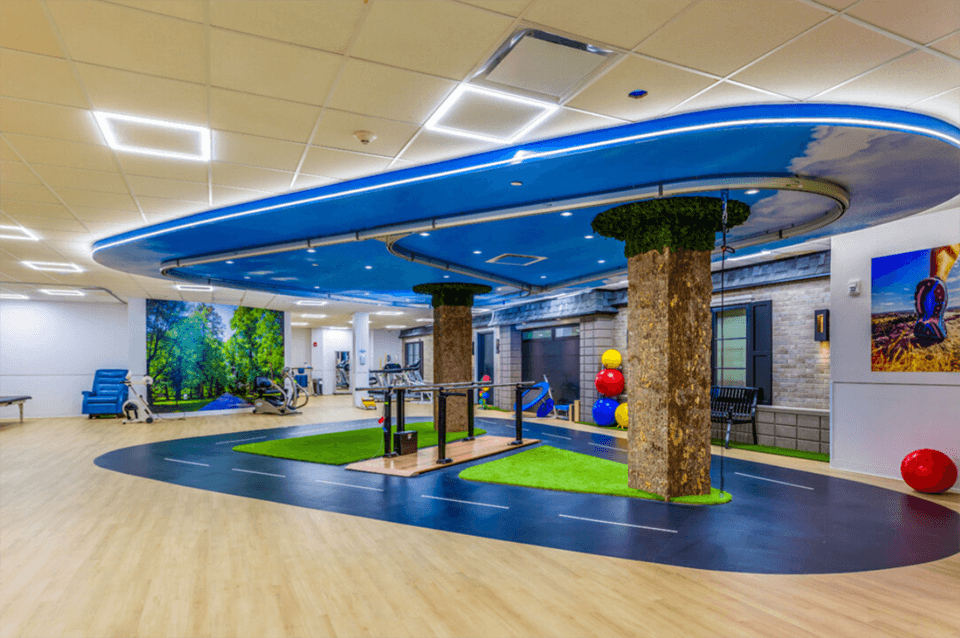 The Solo-Step Overhead Track System is a fully customizable overhead-mounted track system. The system can be used with a variety of other rehabilitation equipment such as treadmills, BOSU balls, parallel bars, and more. 
There are many different shapes and sizes of track systems available. Some of the most popular Solo-Step ceiling track system shapes are: 
Straight systems
Oval systems
W-Shaped systems
L-Shaped systems
U-Shaped Systems
J-Shaped systems
F-Shaped systems
If you are unsure of what you would like in your facility, our sales representatives can provide suggestions along with engineered drawings of your future system.
How Much Does a Ceiling Track System Cost?
The cost of a ceiling track system depends on a number of factors: 
length/configuration of the system
Installation time
Type/number of patients using the system at one time
If you are looking for a free quote for your facility, click the button below!
In conclusion, a ceiling track system can be very beneficial for a wide variety of patients. If your patients require additional support, ceiling track systems can increase their confidence and reduce the risk of injury in your facility. Consider installing a system to provide the best possible care for your staff and patients.