Genesis Medical Center Rehab
The Genesis Regional Rehabilitation Program is located at Genesis Medical Center in Davenport, IA. Genesis Rehab is CARF accredited for Adult, Peds, SCI, BI, and OP Rehab.  Genesis Health System currently has the only Day Rehab program in the state of Iowa and serves persons of all ages experiencing a physical disability and/or cognitive impairment. Rehab programs within Genesis Health System that are currently using the Solo Step to serve on average, 35 patients in Day Rehab and 70 patients per day at West Campus Rehab and Acute areas.  The goal of the Genesis rehabilitation program is to restore maximal functioning in the areas of eating, bathing, dressing, mobility, communication, cognition, recreation and community reintegration.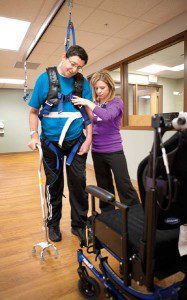 Genesis has been using the Solo Step fall prevention system since 2010.  The therapists at Genesis have found the Solo Step very easy to use and find that it is essential when working with patients dealing with balance issues, weakness, endurance, proprioception dysfunction or any situation where falling would be a concern.
Susan Bode, PT, has worked at Genesis since 1995 in many acute care settings.  Susan said, "Without the Solo Step there would be more of a lifting demand on our therapists and more staff members would be required for safety.  The Solo Step has been instrumental in meeting the challenges of treating neurologically impaired patients safely and more efficiently."
"Amidst the ever-changing health care environment clinicians are challenged to help patients attain functional goals in much less time, in fewer visits, with fewer resources.  Clinicians are also challenged to demonstrate and quantify functional improvements in their documentation.  Throughout the rehabilitation process the Solo Step can be very beneficial in addressing these challenges".  Susan Bode
Solo Step Benefits Noted by the Genesis Physical Therapy Staff:
Solo Step alleviates the necessity for a second or third person to assist the patient.
Patients feel more secure and are willing to try activities that would normally be very intimidating
The Solo Step is useful for the transitional progression to a treadmill or moving to less assistive devices; as from a walker to cane.
Using the gait belt is no longer an essential part of their treatment as the therapists now have the ability to get more "hands on" with each patient to facilitate a more effective therapy session.
The Solo Step harness can be put on the patient while in a seated position, even while in a wheel chair.
The Solo Step ensures the safety of the patient, freeing up the hands of the clinician to assist in attaining normal movement or inhibit abnormal movement, helps increase strength during gait training, assists in balance retraining as well as many other functional activities.
Genesis often uses the Solo Step to challenge their patients.  In balance retraining the patients are able to self correct without the fear of falling to the floor.