High-Intensity Gait Training Benefits
What is High-Intensity Gait Training (HIGT)?
HIGT is a walking and stepping practice that aims to keep your patient's heart rate over a certain target level. That level is specific to the patient and will be determined by the physical therapist. The physical therapist will assign walking exercises that keep the patient's heart rate at or above 60-80% of the patient's max heart rate. 
In people who have experienced a stroke, high-intensity gait training has been found to improve walking-related outcomes and is an effective way to improve the patient's cardiovascular fitness and endurance. It has also been found to decrease the risk of having another stroke.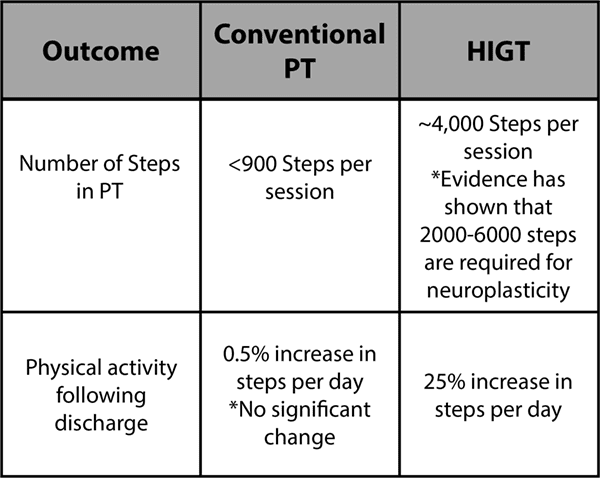 What do HIGT Sessions Look and Feel Like?
High-intensity gait training sessions primarily consist of walking. The physical therapist may include these challenges in order to keep the patient's heart rate in the target zone: 
Increasing speed
Ascending and descending stairs
Adding obstacles
Changing directions
Adding weight to your patient's legs
The physical therapist will keep a close watch over their patients by watching their heart rates and making sure they are responding to the treatment the way they should. Physical therapists are specially trained to monitor the patient's response to exercise and ensure all treatment sessions are safe. HIGT may cause the patient to breathe hard or sweat, but these are normal responses to exercise and are often signs that the patient is working hard enough.
What can High-Intensity Gait Training Improve?
Specifically for people who have experienced a stroke, HIGT has been found to improve:
Walking speed
Walking quality
Walking symmetry
Balance
Transfers
Cardiovascular fitness
Endurance
In addition to the walking benefits HIGT training offers, it can also decrease the risk of the patient having another stroke.
How Can I Keep My Patients Safe During High-Intensity Gait Training?
Keeping your patients safe should be your #1 priority during high-intensity gait training. You may be asking: How can you keep patients safe while treating them during high-intensity training? Connecting your patients to a harness and track system like the Solo-Step may be the safest option for your facility. 
The Solo-Step Safety Overhead System is an aluminum ceiling track system. Your patient wears a harness, which is connected to a lanyard. The adjustable lanyard connects to the ceiling-mounted track system, giving your patients a sense of safety from dangerous falls. The Solo-Step overhead track and harness system offers many benefits, including: 
Reduced fear of falling
Increased confidence
100% safety from fall-related injuries
Increased ability to challenge the patient
Reduced risk of injury to the therapist
Ease of use
Combining high-intensity gait training with the Solo-Step safety overhead system may be beneficial for your patients and your facility. For more information about Solo-Step, click the button below!