Miller Rehabilitation at Sojourn
"It's said that a person is measured not by how they handle success, but how they respond to adversity. At Miller Rehabilitation our sole purpose is to make your response an amazing one." Miller Rehabilitation at Sojourn Senior Living Communities is part of the Riverside Medical Center Continuum of Care, offering skilled and intermediate nursing care in Kankakee, Illinois.
The Miller Rehabilitation Center received a 5-Star rating from the Centers for Medicare & Medicaid Services, they pride themselves on their medically advanced state-of-the-art rehabilitation center. The facility has 160 beds of which 120 are Medicare certified. The therapy team consists of 22 full time therapists and prn staff. The Miller Center treats a variety of patients–orthopedics (fractures and total joints); neurologic patients (Parkinson's, post CVA, MS, Guillain Barre); post-surgical (including open heart); respiratory involvement; general deconditioning, cognitively impaired.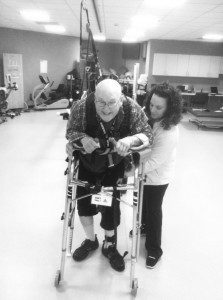 Miller Rehabilitation has had their Solo-Step Fall Protection System for 4 years and in this time the system has increased patient safety, decreased the cost of therapy personnel and prevents injury to both the patient and the therapist. They use their 30 foot strip of track each and every day for a variety of activities including; an obstacle course that contains small cones or different heights of steps, parallel bars, a swiss ball and different games such as: bean bags, badminton, volleyball, kickball and baseball.
Physical Therapist, Dodi Callister at Miller Rehabilitation says "The Solo-Step provides another set of hands, especially when a therapist is working on reactive standing balance and recovery. It allows individuals who want to walk longer than their scheduled physical therapy session to walk to their hearts content while the PT moves on to the next patient."
Dodi and her associates also use the Solo-Step Fall Protection System for their Restorative program by which a restorative aide is responsible for putting the individual in the harness system and monitoring them as they walk to keep their mobility. Residents may refuse to walk with nursing staff but are more than willing to walk when placed in the safety and comfort ability of the Solo-Step. "We have cognitively impaired patients whom, at times, react poorly to touch but with the Solo-Step system these patients have no fear of getting in the harness walking because there is no one physically in contact with them."
"We have two individuals who actually are now living in the Independent portion of the Sojourn community. The one, a cva, wanted to work hours on his gait and obviously with prospective payment it is not financially viable, but with having the Solo-Step Fall Protection system, I could put him in the harness to work on a specific task, I could still keep a visual on him and make suggestions, then he would ask to be unhooked when he needed a sit down rest. Without the Solo-Step, I can honestly say he wouldn't be as far as he is today, I think he would have pushed the walking and standing too far without assistance and have fallen and broken something. The second individual has bilateral solid ankle AFOs due to neurologic involvement. She too, would get in the Solo-Step and just work and work on one foot in front of the other. A third individual is in our long term care unit. He likes to be in the physical therapy environment so we put him into the Solo-Step Fall Protection system and he walks and walks just smiling away."