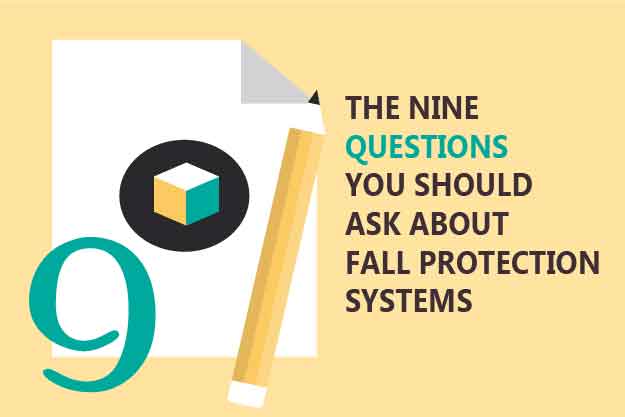 Nine Questions You Should Ask about Fall Protection Systems
With so many options available, how do I choose the right overhead track system for my facility? By asking these NINE questions, you will be able to evaluate whether or not a fall protection system is right for your facility, and if so, which system would be the best fit.
Key Factor #1: What Is The Cost?
Before you start looking anywhere you first need to evaluate your budget. Weather you work in a private practice or in a corporate setting, budgets are always important. How much can you afford to spend? Track systems have a wide price range so if you don't know how much you can spend you may end up looking in the wrong direction from the start. Talk with your administration to see if there is any room in the budget to purchase a track system. If you do not currently have any room please request our free report about "How To Reduce Liability Risks, Enhance Patients Experience, And Increase Revenue Using A Body-Weight Support System In Your Facility" and send it to your administration.
After you get an idea of how much money your facility can afford to spend, you can now start your search to find the perfect overhead track system for your facility! Here is the cold hard truth… Overhead track systems range anywhere from $2,500 to $250,000 and up! This is analyzing your budget and the cost of the system you are interested in is a great place to start. How do you know which system is for you, based on your facility's budget? That brings us to the next important question….
Key Factor #2: What is the Functionality of the System?
All overhead track systems essentially do the same thing. They provide fall protection for patients to reduce risk of injury to both patients and clinicians. However, there are two main types of fall protection systems one with a motorized (automatic) trolley and a second with a non-motorized (manual) trolley. Overhead track systems with a motorized trolley cost significantly more than non-motorized systems. If money is no object, then you will need to assess if you really need a motorized system or not… So what are the pros and cons of a motorized system?
Motorized (automatic) Trolley
Pros:
The trolley moves automatically to guide the patient along the track
The lanyard moves automatically up and down depending on terrain changes
Can be used as a mechanical patient lift
Cons:
Very Expensive
Requires use of power
Complications may arise with the technology
Requires advanced training
If something goes wrong it will be out of use until it's fixed
Additional costs for maintenance issues
If your facility is working with a tight budget or if you realize you don't really need a motorized system, the non-motorized option would ideally be a good fit for your facility. As we mentioned,your other fall protection option is a motorized systems. They tend to be the most popular options as they cost less than motorized systems and they are extremely effective.
Non-Motorized (manual) Trolley
Pros:
Affordable
Very effective
Little maintenance required
Doesn't require any use of power
Simple and easy to use
Learn how to use it within minutes
No mechanical or technological issues
Patients use natural body movement
Cons:
Cannot be used as a mechanical patient lift
Lanyard does not move automatically up and down depending on terrain changes (clinician must manually adjust the height)
Both types of trolleys ultimately save patients from falling. If you are looking for the functionality of having a mechanical lift, the motorized trolley would be the best choice for your facility. However, if you are looking for a simple, affordable, and effective fall protection device then choosing the non-motorized option would be the best fit. Once you weigh out the pros and cons for each of the two types of trolleys you are now ready to ask yourself the third question.
Key Factor #3: What Is The Weight Limit?
Generally, most systems range in weight capacity anywhere from 250lbs to 500lbs. Some systems are geared more towards pediatric care with a lower weight capacity while others are geared for bariatric patients with a higher weight capacity. If you treat a variety of patient types with all different sizes and ages then choosing a track system with the capability to hold 400-500lbs would be the best fit for your facility.
Key Factor #4: System Training Options?
Another question to ask yourself is "What system training options are available to my staff and how would I train them how to use a new system?".
Whether you are choosing a motorized system or non-motorized system, you should look for a company that provides optional on-site training with additional video and chat support for any questions that may arise. If you are choosing a motorized system you will definitely need advanced, technical on-site training to ensure your staff knows exactly how to use the system and how to troubleshoot any issues that may come about with the technology.
If you are choosing a non-motorized system you typically won't need any on-site training as the system will be extremely easy to use but it is wise to search for a company that provides optional on-site training if your facility requests the service.
Key Factor #5: Customer Support Before & After Sale?
Since your facility will be spending a reasonable amount of money on the product, you will need to ensure the company you choose has solid customer support before and after the sale.Here is a guideline of some things to look for in a company in regards to customer support before and after the sale is made…
Support Before The Sale
Look for a company that:
Has excellent customer support
Helps you find installation professionals in your area
Connects you with clinicians in your field that use the same product for peer reviews
Helps you determine the length of track that would be best for your facility
Provides you with resources to make an informed decision
Availability at the times that you most need them
Almost all companies will have some level of customer support before the sale, however one of the most overlooked areas of customer support is what takes place after the sale is made.
Why is this important?
After you make a decent size purchase you don't want to be left hanging dry with no responses from the company when you need them to answer…
Support After The Sale
Look for a company that:
Has excellent customer support after the sale is made, meaning they get back to you in 24 hours of less if you cannot get ahold of them right away or its past business hours
Checks on your facility every so often to get your feedback, answer any questions, and help solve challenges that may arise
Provides additional education and resources on specific treatment techniques such as videos, webinars, and newsletters to keep you in the loop
Gives you the ability to connect you with other clinicians who use the same product to collaborate on ideas, techniques, case studies, etc.
Make sure to do your due diligence by asking some of the questions above to ensure you are in good hands before purchasing an overhead track system from any company.
Key Factor #6: Durability & Warranty?
Since the system will be used with patients on a regular basis, it is important to pay close attention to the durability of the equipment. It may be tempting to save a few bucks by choosing a system made with lower quality materials, however it is strongly recommended that you look for a system that is made the highest quality materials available. In essence, the higher quality materials the system is made out of, the longer it will last –which will ultimately save your facility more money in the long run. Check to make sure the system you are looking to purchase has a solid warranty.
In case anything unexpected happens to the track, trolley, lanyard, or harnesses it's nice to know the company you purchased your system from stands behind their products. Ideally, look for a company that offers a lifetime guarantee on the track and trolley and 5+ year warranty on the lanyard and harnesses.
Key Factor #7: Track And Accessory Options?
Every facility is different in terms of structural design and layout so don't settle for a cookie cutter solution to your fall protection needs. Talk with your team to figure out where the best option for an overhead track system to be installed is in your facility. Most of the time a straight run with be sufficient, however if you are looking to have a full oval system then you need to ensure the company can accommodate your needs. Some facilities cannot have anything installed in their ceiling for a variety of reasons so if you fall under this category you will need to see if the company has portable systems available. Check with the company you are considering purchasing from to see what kind of track options they have available such as:
Do they have portable systems available?
How long is each segment of straight track and can it be shortened?
What sizes do the curved track come in and what is the degree of curvature?
Do they have straight and curved track to make ovals, u-shapes, j-shapes, and straight run designs?
Also, check the company's website to see what kind of options they have available for harnesses and lanyards. Some harnesses work better for some patients while some lanyards work better for certain exercises. If they only have one harness and one lanyard, you may become frustrated that you cannot do certain activities with certain patients due to restrictions.
Key Factor #8: Installation & Maintenance
Before you purchase an overhead track system, talk with the company you are working with to see if they have any recommended installers in your area.The first thing you will need to do is get a quote from the recommended installers to find a price point that is reasonable.Keep in mind that the price of installation can vary depending on the location of your facility, the ceiling structure, and the size of the system being installed.If the installation cost is out of your budget range, check with the company you are working with to see if they have a portable option available that would not require  installation. Remember if you are purchasing a motorized system you will need to have frequent maintenance checks along with the possibility for additional costs due to motor malfunctions.However, if you are purchasing a non-motorized system there will be very minimal maintenance besides checking for wear-and-tear on the lanyard and harnesses.
Key Factor #9: Marketing Materials?
One of the most overlooked aspects of purchasing equipment for your facility is the marketing materials provided to you by the company. This is important because you need a way to effectively market your new overhead track system to your doctor referral sources, letting them know how your facility can help their patients.Look for a company that provides good materials such as press releases, videos, brochures, etc. for you to use on your website, social media, and other marketing efforts to dominate your local market by showing how your facility differs from the rest with your new equipment! Use these nine questions to find the perfect overhead track system for your facility! If you would like additional help, simply request your free consultation with an overhead track system specialist to help you find the perfect system for your facility! We are here to help.