Six Tips for Preventing Patient Falls During Physical Therapy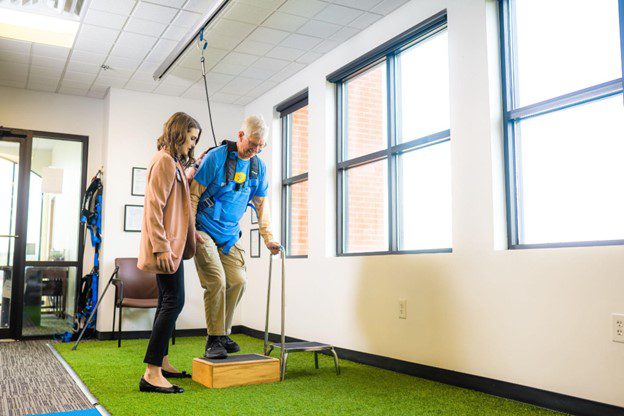 The fear of falling can be a significant obstacle for many physical therapy patients. Falls can result in unwanted outcomes, including injury, decreased ability to do what you love, and a loss of independence. There are many ways physical therapists can help their patients improve balance, muscle strength, and endurance.
According to the CDC (Centers for Disease Control), around 1 in every 4 adults fall each year! Despite this, falls are not a normal part of aging. There are many different things a physical therapist can do to help their patients develop a plan to address falls and remain independent:
Educating your patients about medical risk factors associated with falls.
Designing an individualized plan for your patients' fall prevention needs.
Providing your patients with appropriate exercises and balance training.
Use appropriate equipment specific to your patient's condition.
Working with health care professionals to address their patient's underlying medical conditions that could increase fall risks.
Helping your patients make their homes as safe as possible.
Educate your Patients About Fall Risks
There are many benefits of educating your patients about medical risk factors associated with falls. Teaching your patients about potential risk factors can help patients prevent or avoid future falls.
Many factors can increase your risk for falls, including:
History of a previous fall.
Having a sedentary lifestyle.
Advanced age.
Difficulty walking or keeping balance.
Limited flexibility.
Problems with your vision or hearing.
Getting dizzy when standing up or lying down.
Joint pain or arthritis.
Trouble with memory and thinking.
Inappropriate use of walker or cane.
Inappropriate footwear.
Home hazards
Certain Medications
And more.
The more risk factors your patient has, the greater their risk of falling is. Educating your patients about potential risk factors can help your patients take action and recognize how important and beneficial it could be to see a physical therapist.
Design Individualized Treatment Plans
No patient is the same. Each patient you see should have an individualized treatment plan specific to their age, body type, and condition. As a physical therapist, you should conduct a screening of your patient's fall risks. If your screening shows that your patients are at risk, the physical therapist should perform a thorough evaluation, including:
Review your patient's medical history.
Review medications.
Conduct a vision test.
Conduct a home safety assessment.
Check your patient's heart rate and blood pressure measurements at rest and while you change positions from sitting/lying to standing.
Conduct a foot and footwear assessment.
Conduct an assessment of your patient's balance, strength, and walking ability.
Based on the evaluation results, a treatment plan should be designed that is tailored to the patient's needs.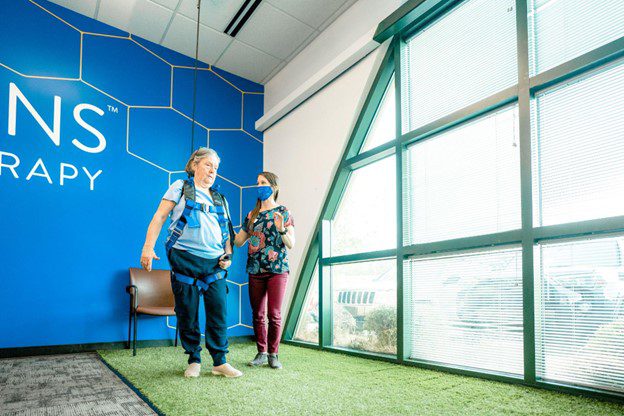 Provide Necessary Treatment for Your Patients
Ensure that your patients are receiving the best possible treatment plan for their condition, including proper safety and exercise equipment. Some examples of specific training include:
Balance training is an important and effective part of fall prevention. Exercises that challenge the patient's ability to keep balance, as well as recover from the loss of balance are important. Exercises such as single-leg standing, standing on a balance ball, and more can all benefit the patient.
Walking and Moving
A prescribed exercise program should include walking. Starting a walking program can increase your risk of falling, so patients should talk to their doctor or physical therapist before initiating a walking program.
Some exercises that may be performed include:
Dance steps
Walking in circles
Working through obstacle courses
And more
Strength Training
Strengthening is extremely important in preventing falls. Physical therapists should design an individualized strengthening program that focuses on specific muscle groups. This will help patients improve their standing balance, their balance while walking, and their ability to recover from a loss of balance.
Endurance Training
Physical therapists should work with their patients to plan a safe aerobic program for their patients. Aerobic exercise is relatively low intensity and long duration, which can help improve the patient's health. The program may start with as little as 10-minute sessions and progress to 30-minute sessions as the patient's endurance improves.
Fear management
Many patients that suffer from balance issues have a fear of falling. Therapist needs to work with their patient to build confidence and help them get back to activities they may be avoiding.
Use Appropriate Physical Therapy Equipment
Using the appropriate equipment is essential for gaining progress. Assistive devices may be necessary for patients with balance issues. Some assistive devices include:
Walkers
Canes
Crutches
And more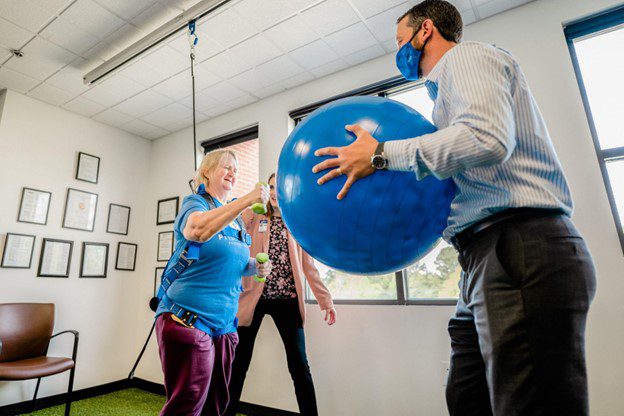 Ensure that your patient is utilizing exercise equipment that they are comfortable with, but still challenges them. Some exercise equipment that improves patients' balance include:
BOSU Balls
Balance Boards
Exercise Balls
Cones/Floor Obstacles
Balance Pads
And more
Work with Your Patients Health Care Professionals
Physical therapists should check with their patient's health care professionals to review medical history and medications to provide personalized care for their patients. Therapists should take note of any vision or hearing tests their patients have taken as well.
Help Your Patients Make their Home as Safe as Possible
Continuing treatment while the patient is at home may be necessary for continuous improvement. There are many ways to prevent falls and avoid dangers at home, including:
Clean up clutter – Keeping your home neat is very important, especially near hallways and staircases.
Repair or remove tripping hazards – Some home fixtures can contribute to falls, which can lead to back pain and other injuries. Patients should examine every room and hallway, looking for items like loose carpets, slippery rugs, or floorboards that stick up. Repairing, removing, or replacing these items can be effective in preventing falls.
Install grab bars and handrails.
Avoid loose clothing – Baggy clothes can bunch up or drag on the ground, which could lead to more falls.
Ensure rooms have enough light.
Make slippery surfaces, like bathtubs and showers, nonslip
Wear shoes
Move more carefully
Utilizing these tips will ensure that your patients conquer their fear of falling, and continue to treat their condition! For more blogs on fall prevention, physical therapy tips, and more, click here!