The Importance of Gait Training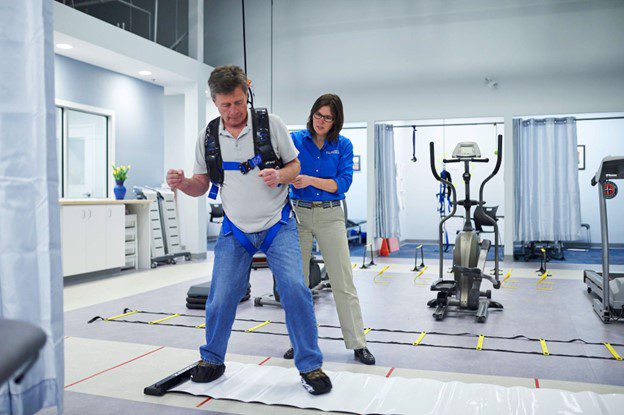 What is Gait Training?
An essential style of therapy that is being used today is gait training. Gait training is a physical therapy that helps individuals improve their walking ability. Gait training primarily focuses on walking as the type of exercise. It is a very important and beneficial type of training for individuals who suffer from having trouble walking or balancing on their own.
Gait training can be recommended for anyone who has experienced an illness or injury, especially those that affect one's ability to walk easily and balance. You may perform certain exercises during gait training, such as walking on a treadmill and doing various types of strength training. Gait training can help strengthen your muscles and joints, improve posture and balance, lower your risk of falling, and overall increase your mobility. Gait training is important to help build your endurance and get your legs back and ready for repetitive motion as well as develop muscle memory.
Many different types of injuries can be helped with gait training, such as spinal cord injuries, broken bones in the leg or pelvis area, and individuals who suffer from strokes, neurological disorders, and muscular dystrophy.
Types of Gait Abnormalities
Common types of gait abnormalities that may require gait training include:
Trendelenburg gait– an abnormal gait resulting from a defective hip abductor mechanism
High Steppage gait- a form of gait abnormality characterized by foot drop or ankle equinus due to loss of dorsiflexion. The foot hangs with the does pointing down, causing the toes to scrape the ground while walking. This requires the individual to lift their leg higher than normal when walking.
Spastic gait- a way of walking in which one leg is stiff and drags in a semicircular motion on the side most affected by long-term muscle contraction. This type of gait abnormality is common in patients with cerebral palsy or multiple sclerosis.
Antalgic gait- gait abnormalities due to pain, ultimately causing a limp
Gait Exercises
A key benefit of gait training is that it reduces the risk that you will have a fall due to lowered mobility or instability while walking. It is important to talk to your physician before getting started with gait training or any other physical therapy. These exercises may be performed with or without a physical therapist, depending on your unique needs and physical abilities.
The majority of gait training exercises are meant to strengthen your muscles or improve stability. These activities include:
Lifting your legs
Sitting down
Standing up
Stepping over objects
Walking on a treadmill
Many patients may need an assistive device to help them walk immediately after their lower extremity injury or surgery. A physical therapist can help the patient choose the right one. Examples of assistive devices include:
Wheeled walkers
Crutches
Standard walkers
Crutches
Canes
And more
Some patients use their assistive devices temporarily, while others with significant impairments need to use them permanently. Therapists can help their patients determine when it is time to lose their assistive devices.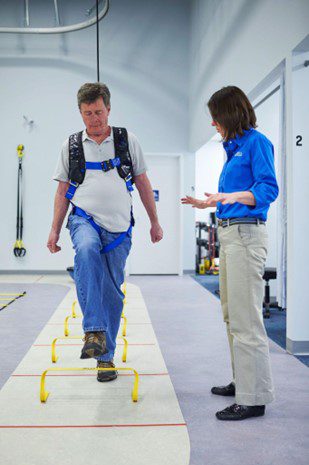 Safety Equipment for Gait Therapy
The Solo-Step overhead track and harness system is a great piece of equipment for keeping patients safe during balance and gait training. It is an overhead piece of track, made out of aluminum, that attaches to the facility's ceiling and hooks onto a patient that is wearing a harness. This protects patients from falling and injuring themselves while allowing them to gain confidence and rehab effectively. Supporting up to 420 pounds, Solo-Step protects patients in case of accidental slips or falls during gait training.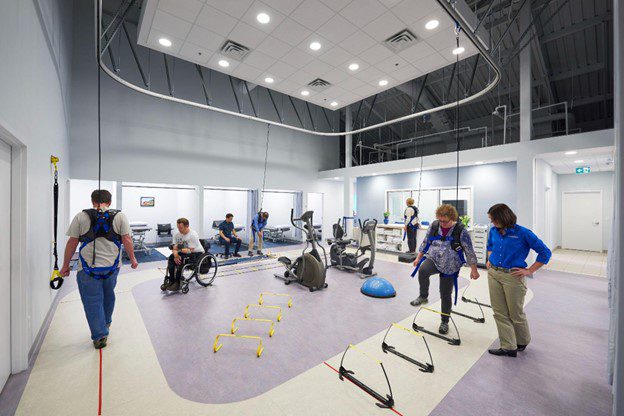 Solo-Step has many benefits for therapists and facilities as well, including:
Reducing injury or strain that therapists may experience while protecting patients during therapy
Therapists can step away from their patients to view total body alignment without worrying about them falling
Therapists can challenge their patients to reach higher levels of rehabilitation in less time.
Facilities can help a more diverse set of individuals, from amputees to pediatrics to elderly people (anyone who may need assistance during exercise or gait training) resulting in a higher ROI
Increased productivity with a 1:1 therapist-to-patient ratio. Only one therapist is required to assist a patient while the patient is hooked up to the Solo-Step safety overhead system since the Solo-Step is holding the body weight of the patient in case of a fall.
Gives facilities a starting point for implementing new balance programs.
To find a facility with a Solo-Step system near you, click here!
If you are a facility owner or therapist that would like to request more information about the Solo-Step, click here!