Top 5 Benefits for Physical Therapists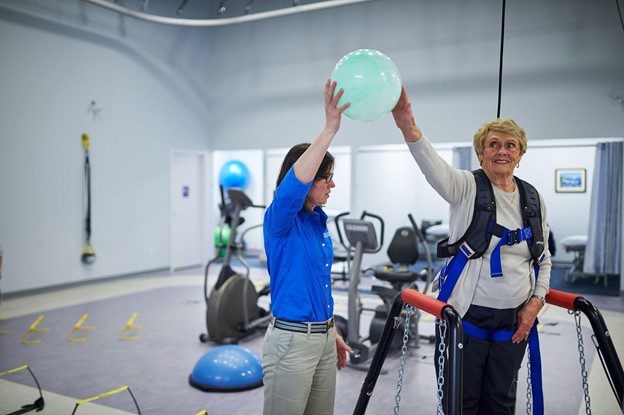 Solo-Step's mission is to help you become the best therapist you can be! Using our track system, you can begin to step away from your patients with a hands-off approach to give you the ability to view total body alignment with ease. The Solo-Step safety overhead system offers many benefits to therapists in order to help their patients see results while remaining safe! Therapists should expect these five benefits with the use of the Solo-Step safety harness and track system:
1.   Assessing the Patient
As a therapist, it is important to understand specific movements and how your patients are operating. Solo-Step allows you to take a couple of steps back and monitor a patient's movement, without worrying about them falling because the safety overhead system will hold them!
This allows you to make any adjustments that are necessary for the patient to continue towards progress!
2.   Reducing Risk of Injury
Solo-Step is designed to prevent injury in both the patient as well as the therapist.
The overhead track and harness system is rated to hold people of all different sizes, up to 420 pounds.
Therapists do not have to strain their bodies trying to hold a patient up or trying to prevent the patient from falling.
3.   Ease of Assisting Patients
Solo-Step allows therapists to monitor their patient's movement and focus on what exercises will improve their patient's condition.
The system allows therapists to focus 1 on 1 with their patients, meaning they do not need assistance from other therapists while using the system because Solo-Step will prevent falls and keep patients moving!
4.   Challenging Patients
Since patients are secured and able to focus on their movements, therapists can try more advanced exercises in order to help the patient gain their balance faster while still remaining safe.
Our overhead track and harness system can be placed over many different exercise equipment to give patients a variety of exercises to improve their balance.
Many therapists have used balance boards, treadmills, cones, and other equipment to challenge their patients while still remaining safe!
5.   Faster Patient Improvement
Solo-Step allows patients to focus on their recovery without the fear of falling, so they will be able to improve at a faster pace than if they were having fears of falling down.
Patients will be more satisfied with their therapy because they will notice their improvements! This could result in continued therapy or referrals from patients who have been helped!
See your patients improve their balance, gait, mobility, and strength faster than ever before!
Many therapists have experienced the benefits of using the Solo-Step overhead track and harness system. Find out for yourself!


SOLO-STEP® has given our facility an added edge to take on more challenging cases safely for both the patients and therapists.
Michel Vincent


SOLO-STEP® is an innovative rehabilitation tool designed for the safety of both the patient and therapist or athletic trainer. SOLO-STEP® has the versatility to allow you to work with all patients whether it be amputees, post of total joints, athletes, or aquatics. This tool gives the patient complete confidence during assisted ambulation and eases the fear of falling. I cannot imagine how many injuries, to patients or practitioners, SOLO-STEP® could help prevent.
Mike Langston