Fall Prevention Month: Weekly Tip #5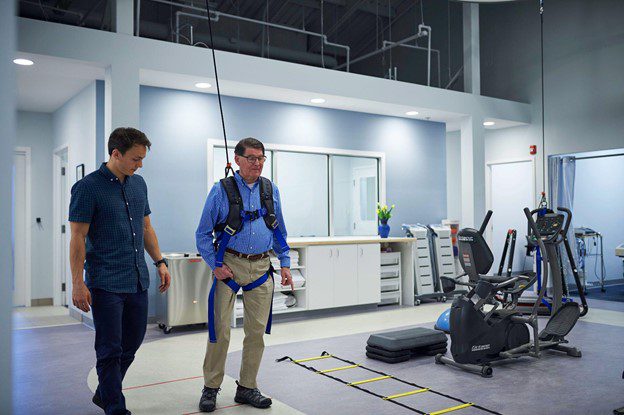 Lack of physical activity is one of the main factors leading to falls! Physical activity and exercise have been identified as a single intervention that can prevent falls in adults over 65 years old.  According to BioMed Central, about 4% of falls result in fractures, while 11% result in other serious injuries like head trauma, soft tissue injuries, and severe lacerations. Many individuals who suffer a fall are less likely to remain active after the fall. This leads us to our final tip during Fall Prevention Month: keep moving!
Keep Moving
Remaining active is critical in preventing falls. There are many different exercises you can do to build strength and balance! Exercising can help prevent falls because it can:
Make your muscles stronger and more flexible.
Improve your balance.
Increase how long you can remain active.
If you avoid walking or exercise because you are afraid of falling or have fallen before, tell your doctor. They may recommend carefully monitored exercise programs or physical therapy. These programs are a safe and effective way to remain active while having fun! Physical therapy can provide you with:
An individual plan for your fall prevention needs.
Ideas on how to make your home as safe as possible.
Educate you about the medical risk factors associated with falls.
Provide you with appropriate exercises and balance training.
Provide you with recommendations on appropriate community programs.
Work with other health care professionals to address any underlying medical conditions that could increase your fall risk.
Remaining active will make falls less likely and keep you healthier! Physical therapy is a great option and will help with your balance, muscle strength, and your flexibility. Many physical therapy locations use the Solo-Step safety harness and track system to protect their patients from falls and allow patients to try more advanced exercises! Check out our map to see where the nearest Solo-Step system is to you: https://solostep.com/where-solo-step-is-used/
Solo-Step specializes in overhead track and harness systems that prevent patient falls during PT and rehabilitation treatments.  For more information on how you can work with a Solo-Step equipped company you can visit our Solo-Step Facility Location Map.  Or if you would like more information on how you can get the Solo-Step system in your facility, contact us today.
Come back next week for our next tip of the week during Fall Prevention Month!