Improve your Physical Therapy Facility with Solo-Step!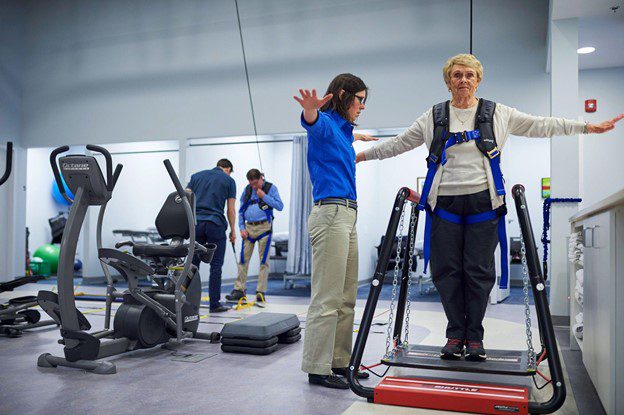 The Solo-Step overhead track and harness system offers many benefits for facilities that have the system installed. Over 500 facilities have Solo-Step installed, with many more to come! These facilities have recognized the importance of having a safety overhead system and how it adds value to their facilities and for their customers! These benefits include:
Reducing or Eliminating Liability Risks Associated with Falls
Installing a safety overhead system like Solo-Step will provide your patient with a device that will eliminate the risk of falling.
According to the Healthcare Providers Service Organization (HPSO), the average total incurred of physical therapy professional liability closed claims totaled $134,761 in 2020.
HPSO states that patient falls compromised about 30.6% of all closed claims.
Installing a safety overhead system will save money on liability claims because fewer falls=fewer liabilities.
Providing a Safer Environment for Patients
Solo-Step is specifically designed to prevent falls.
The Universal track and harness can hold patients that weigh up to 420 pounds!
Many patients specifically choose physical therapy locations because of equipment like Solo-Step that can prevent unexpected falls!
Increasing Productivity
Utilizing a safety overhead system allows physical therapists to better assist their patients with a 1:1 treatment ratio.
Some larger patients typically need additional assistance from more than one physical therapist. With the Solo-Step system, therapists can focus on a patient's exercises and form without worrying about them falling or needing additional help from another therapist.
Eliminating Fear
Utilizing a system like Solo-Step increases the confidence in many patients!
Patients are willing to try more advanced therapies because they worry less about falling and are able to focus more on their technique.
Many facility owners notice benefits resulting from the Solo-Step overhead system from day one! Jon Lowry from PT Solutions stated, "Since having Solo-Step installed, we have utilized the product from day one. Not only has it helped with our day-to-day operations, but also with our clinical research programs. Solo-Step has been nothing but a pleasure to work with, from quote to installation. I highly recommend Solo-Step!"
To learn more about your return on investment with the Solo-Step overhead track and harness system, visit our ROI blog by clicking the link below!
https://solostep.com/find-fall-protection-system-can-best-return-investment/