Patient Benefits with Solo-Step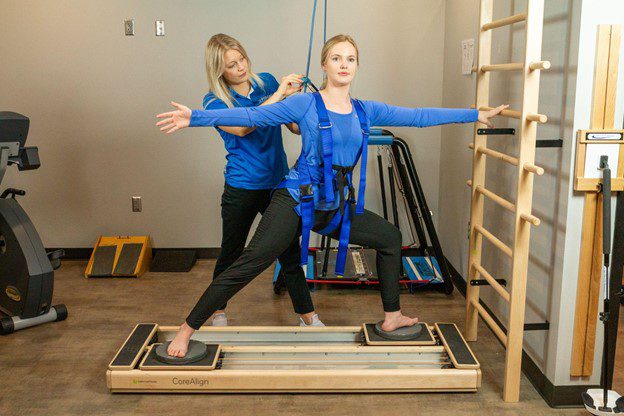 The Solo-Step overhead track and harness system offers multiple benefits to patients who need help in balance, strength, and gait training! Our ceiling track system is specifically made with patients in mind to ensure that they remain safe from falling and get the most out of each therapy session! Patients should expect these benefits with the use of the Solo-Step safety track and harness:
Eliminate your fear of falling down.
Solo-Step eliminates patients' fear of falling down because it allows them to have a safe environment for balance, strength, and gait training.
Solo-Step is rated to hold patients up to 420 pounds!
Increase in confidence.
Patients know that they are safe with the help of Solo-Step! They will gain confidence knowing that they can attempt and succeed in more difficult tasks.
Attempt more advanced tasks.
Patients are able to challenge themselves with more advanced therapy sessions. When a patient knows that they will not fall, they can focus on their technique without second-guessing themselves or being worried about injuring themselves.
Faster results!
When you attempt more advanced tasks and are not afraid of falling with the help of Solo-Step, you should expect faster results! Many different therapists and patients have noticed faster results with the help of our overhead safety track and harness!
Many patients, like Bret Merkle, wish they had Solo-Step earlier on in their therapy!
SOLO-STEP® needs to be in every rehab center in America! I was paralyzed from the waist down when I was 21 years old. Doctors told me I would never walk again. After 6 months in the hospital, over 20 surgeries and many months of physical therapy, I took my first steps! The scariest thing in life was taking those first steps. For able-bodied people, falling is not a big deal or something to fear. But for someone who has been injured or has some medical condition that leaves them unable to walk, it is one of the scariest things they ever face. I wish I would have had the SOLO-STEP® earlier on in my therapy.
Bret Merkle
Many different types of patients have benefitted from the use of the Solo-Step safety overhead track and harness! These patients include:
Patients with Neurological Disorders
Patients with Balance Disorders
Geriatric Patients
Bariatric Patients
Pediatric Patients
Amputees
High-Performance Athletes
Anyone at Risk of Falling
Click our blog below to learn how Solo-Step improves functional outcomes for different types of patients!