Guy Romain is the owner of NeuroFit360 located in Pembroke Pines, Florida.  His 1,400 square foot facility serves patients dealing with spinal cord injuries, traumatic brain injuries, stroke patients, multiple sclerosis, cerebral palsy, and other neurological disorders.
Guy's mantra is "The Cure is Within Me."  He is a licensed physical therapist with 9 years of experience in a multitude of areas.  Guy became a licensed therapist because of his strong desire to help improve the quality of life for the injured, post-operative, as well as the elderly.
NeuroFit360 installed a Solo-Step fall prevention system 8 months ago and has already seen tremendous benefits.  Guy says, "My patients feel very safe and are able to perform challenging tasks faster than ever before in the Solo-Step harness system because they get over their fear of falling almost immediately!  Wheelchair bound patients are now able to stand and do basic exercises very safely."
Guy also states, "Not only does the Solo-Step allow us to treat our clients safely, with a hands-off approach, we can actually stand back and access their progress and give therapy instructions instead of worrying about potential falls."
"The addition of the Solo-Step fall prevention track & harness system has been a great addition to our facility!  Our therapists love it and use it with almost every patient."  The Solo-Step system has also helped NeuroFit360 target additional patients who were not on our radar, such as; amputees and other more challenging patient types that would normally take two therapists to treat."
Guy says, "The best thing about the Solo-Step is that we can now get our patients who have spent most of their life sitting in their wheelchair doing things they never thought they could do. This is simply because they feel extremely safe during their therapy."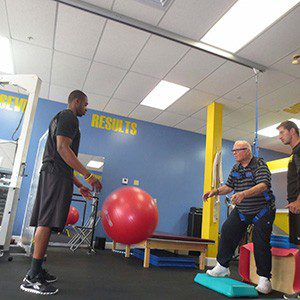 The goal at NeuroFit360 is to challenge the status quo by pushing the boundaries of preconceived notions regarding physical abilities and to improve the quality of life of individuals with neurological injuries through intense exercise-based recovery programs, education, support, and encouragement.
Guy graduated with his master's degree in physical therapy from Nova Southeastern in 2003.  With his 9 years of experience, Guy has developed a broader knowledge base in orthopedics and neurological evaluation and treatment experiences for all ages.  His post-graduate studies are underway and he will receive his Doctorate of Physical Therapy from the University of St. Augustine this year!!
For more information on NeuroFit360 visit their website at www.neurofit360.com or call (954) 252-8020 to speak with Guy Romain about the benefits of using the Solo-Step System.